BLACK FRIDAY 60% OFF SALE NOW!
CODE: CYBERDEALS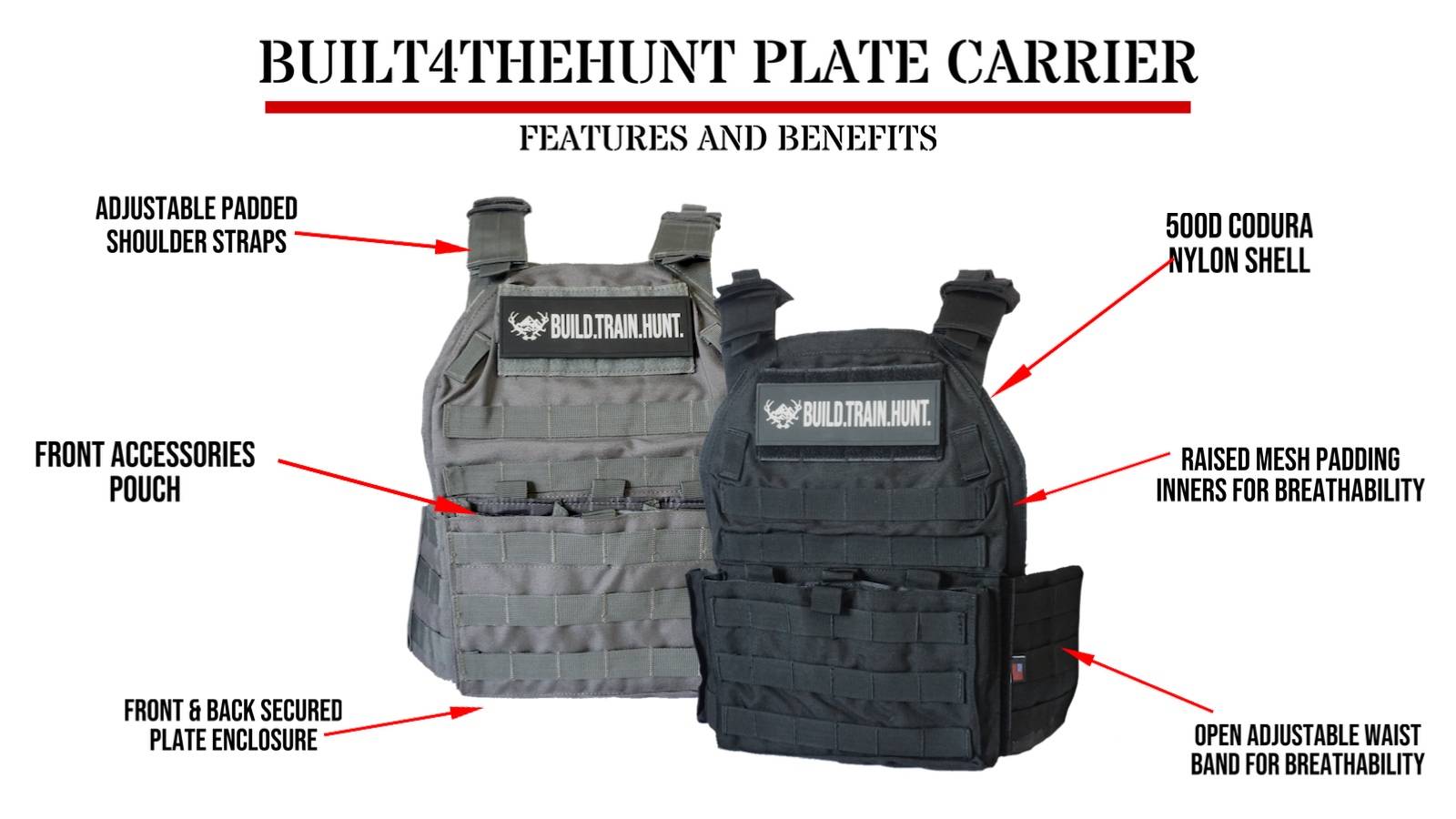 ---

BUY NOW, PAY LATER WITH SEZZLE
Select Sezzle at checkout and make 4 payments over 6 weeks!
INCLUDES "BUILT4THIS" LOGO PATCH - (NOT PICTURED & WILL SHIP SEPERATELY 12/1)
PLATE CARRIERS ASSEMBLED IN USA
The Built4TheHunt Plate Carrier Vest is uniquely designed to give the wearer an increased range of motion with a lightweight feel and optimal breath-ability. Unlike some comparable weighted vests or flak jackets in the industry, the Built4TheHunt Tactical Weight Vest can hold medium and large ballistic plates—front and back—without the restrictive bulkiness. Yoke shoulder pads reduce friction, adjustable tensional bands improve stability, and innovative air flow channels and aerospace mesh ensure sustained comfort.
NOW JUST $52 WITH DISCOUNT
100% No-Risk Money Back Guarantee

---
Built4TheHunt Tactical Plate Carrier Training Vest
Details
Constructed to ensure high performance while remaining lightweight and mobile. The most lightweight and best-fitting plate carriers in the industry.
Important: The Built4TheHunt Tactical Vest is intended as a fitness accessory and should NOT be used as body armor without you purchasing ballistic plates that we do not sell.
The Built4TheHunt Tactical Plate Carrier Vest
The Built4TheHunt Plate Carrier Vest weighs 2.5LB on its own.
(For information on adjusting the straps and securing plates, watch instructional video HERE)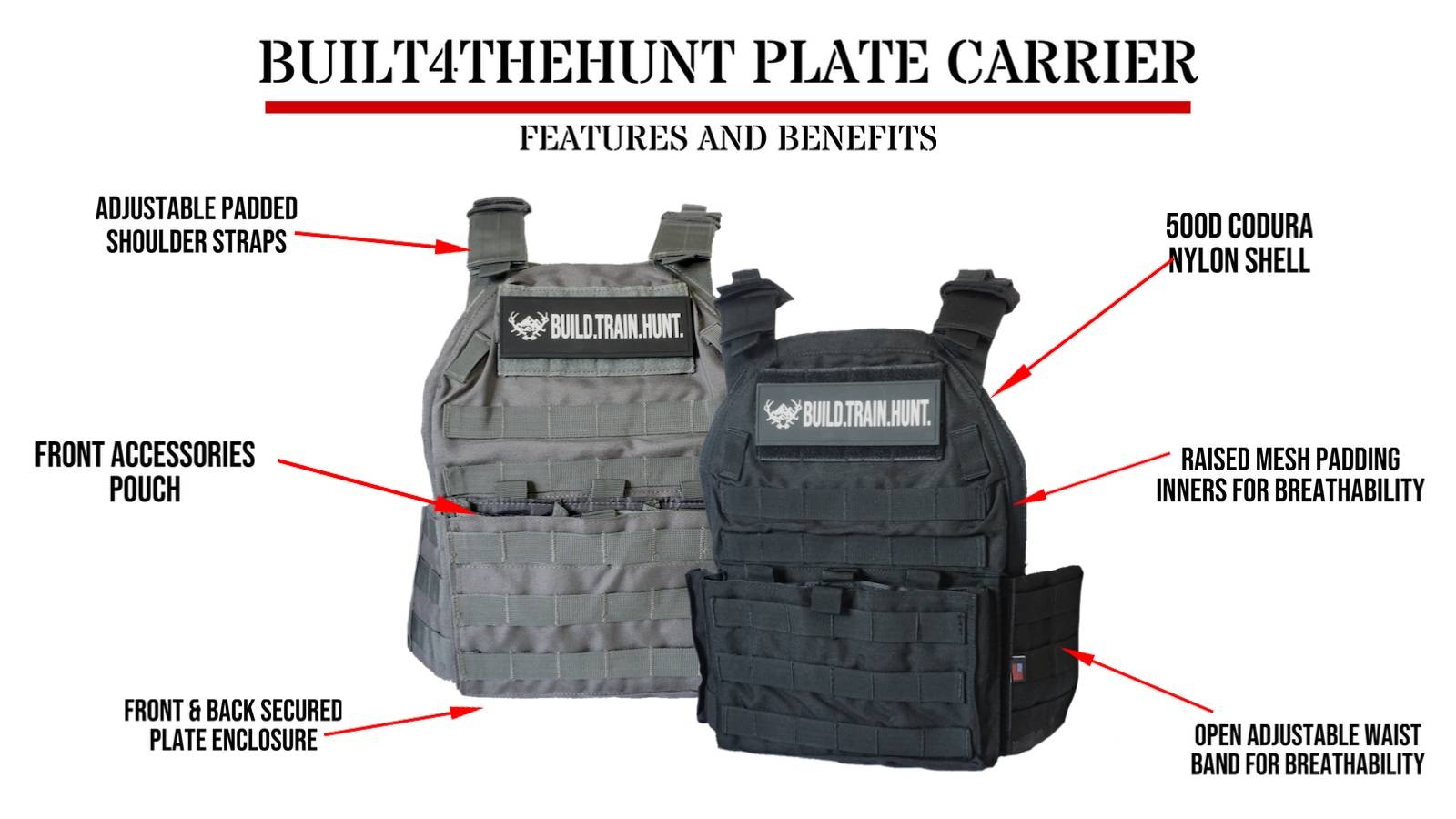 ---
DIMENSIONS
Fits Plates 24mm wide SAPI plates: (NOT I
Medium (12.5" H x 9.5" L x 2" W)
Large (13.25" x 10.25" x 2.25")
FEATURES
Enhanced comfort and freedom of movement

Accommodates medium or large ballistic plates

Back yoke shoulder pads distribute weight evenly

Abrasion resistant 500D Codura

Adjustable waist and tensional bands (Sizes S-XL)

One-handed quick-release

Water-resistant coating

Oversized airflow panels

Durable Duraflex® hardware

Web ID loop

Fits Rogue® Men's and Women's Weight Vest Plates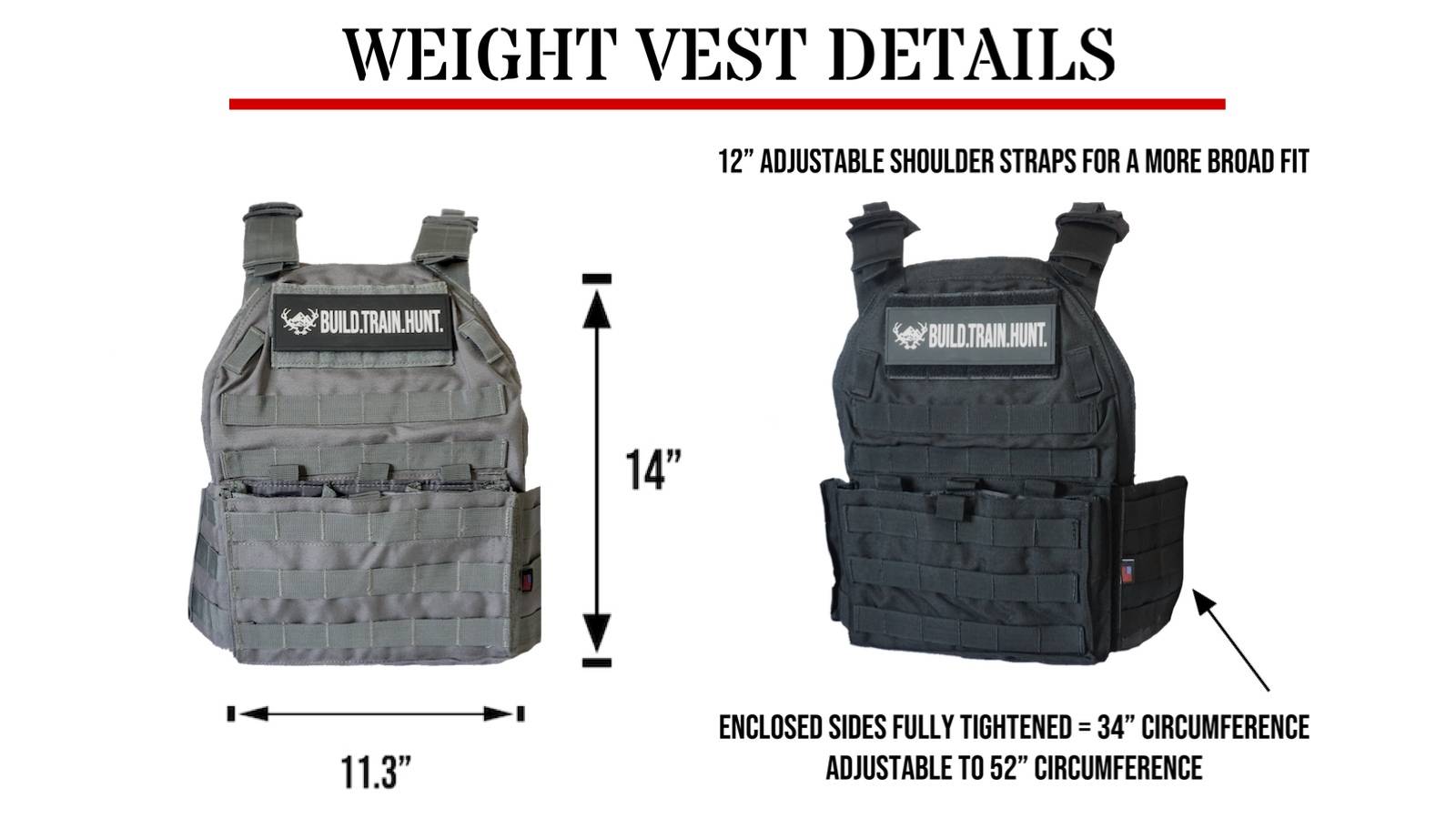 TAKE YOUR WORKOUTS TO THE NEXT LEVEL
BUY NOW, PAY LATER WITH SEZZLE
Select Sezzle at checkout and make 4 payments over 6 weeks!

NOW JUST $52 WITH DISCOUNT
★ ★ ★ ★ ★ 5.0
100% NO-RISK MONEY BACK GUARANTEE


What are people saying about Built4TheHunt's Plate Carrier?
★ ★ ★ ★ ★
This is the first weighted vest that I have used and I must say that it fits and wears nicely. It is adjustable and doesn't rub when working out. The vest stays snug when I do high rep calisthenics and doesn't interfere with burpee workouts. I would highly recommend this vest to anyone who is looking at purchasing one!
- Adrian
★ ★ ★ ★ ★
I have worn many different weight vests over the years, mostly for running and CrossFit. This vest is very comfortable and stays snug throughout duration of training. Highly recommend this vest, it's well worth the money!
- Shane
★ ★ ★ ★ ★
This plate carrier is extremely well built and I am happy with the product. I highly recommend anybody looking for a solid product and good price.
- John
★ ★ ★ ★ ★
Great vest and a great addition to my workouts. Best price for the type of vest I could find and quick shipment and receiving. I would definitely recommend to anyone looking to get more out of their workouts and prepare for the upcoming seasons!
- Luke