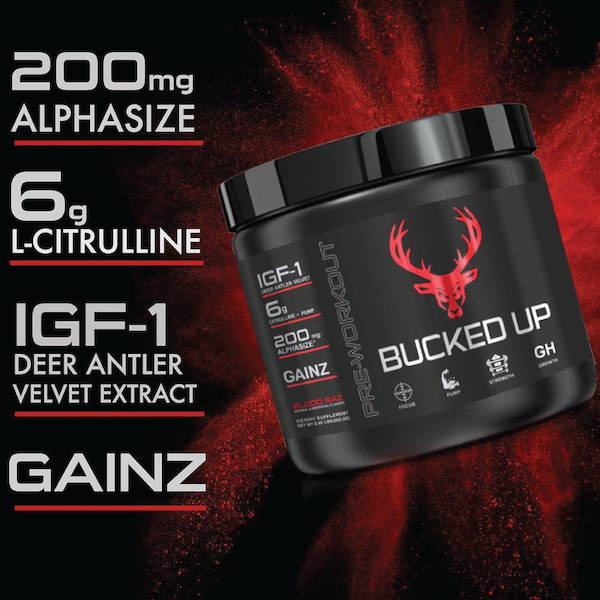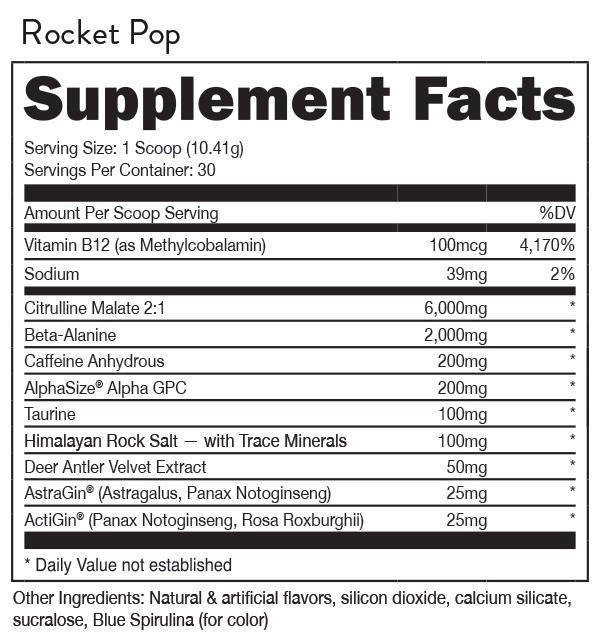 ---

This pre-workout works wonders, clean solid energy throughout my workout, and no crash, the pump is great and the taste is one if not the best I have ever tried, great product! - Taylor
Bucked Up Pre-workout was created with one purpose in mind—to take your workouts to the next level and to be the best possible pre-workout available on the market. Packed with scientifically backed ingredients, at clinically effective dosages, Bucked Up™ is a game-changer. Bucked UP doesn't use proprietary blends. Bucked Up contains three growth hormone potentiates, to help enhance your workout. Approximately 200mg caffeine per serving & CREATINE FREE.
100% No-Risk Money Back Guarantee

---
Citrulline - 6g to maximize blood flow (nitric oxide booster)*
Actigin® - Increase VO2 MAX & boost athletic performance [1]
Deer Antler Velvet - Rich in IGF-1 & IGF-2*
Alphasize® - A growth hormone potentiate clinically shown to sharpen mental focus [2]
Astragin® - Clinically shown to increase citrulline absorption [3]
CarnoSyn® Beta-Alanine - Promotes strength, endurance, & muscle growth*
* The statements made here have not been evaluated by the Food and Drug Administration. This product is not intended to diagnose, treat, cure, or prevent any disease.
---
EFFECTIVE FOR SERIOUS ATHLETES, BODYBUILDERS, AND ANYONE ELSE
CREATINE FREE ZERO SUGAR - KETO / PALEO FRIENDLY - ZERO CALORIE - GMP CERTIFIED
You won't find ineffective doses of any ingredients in BUCKED UP® because we know that you don't want to pay for a supplement that isn't going to work.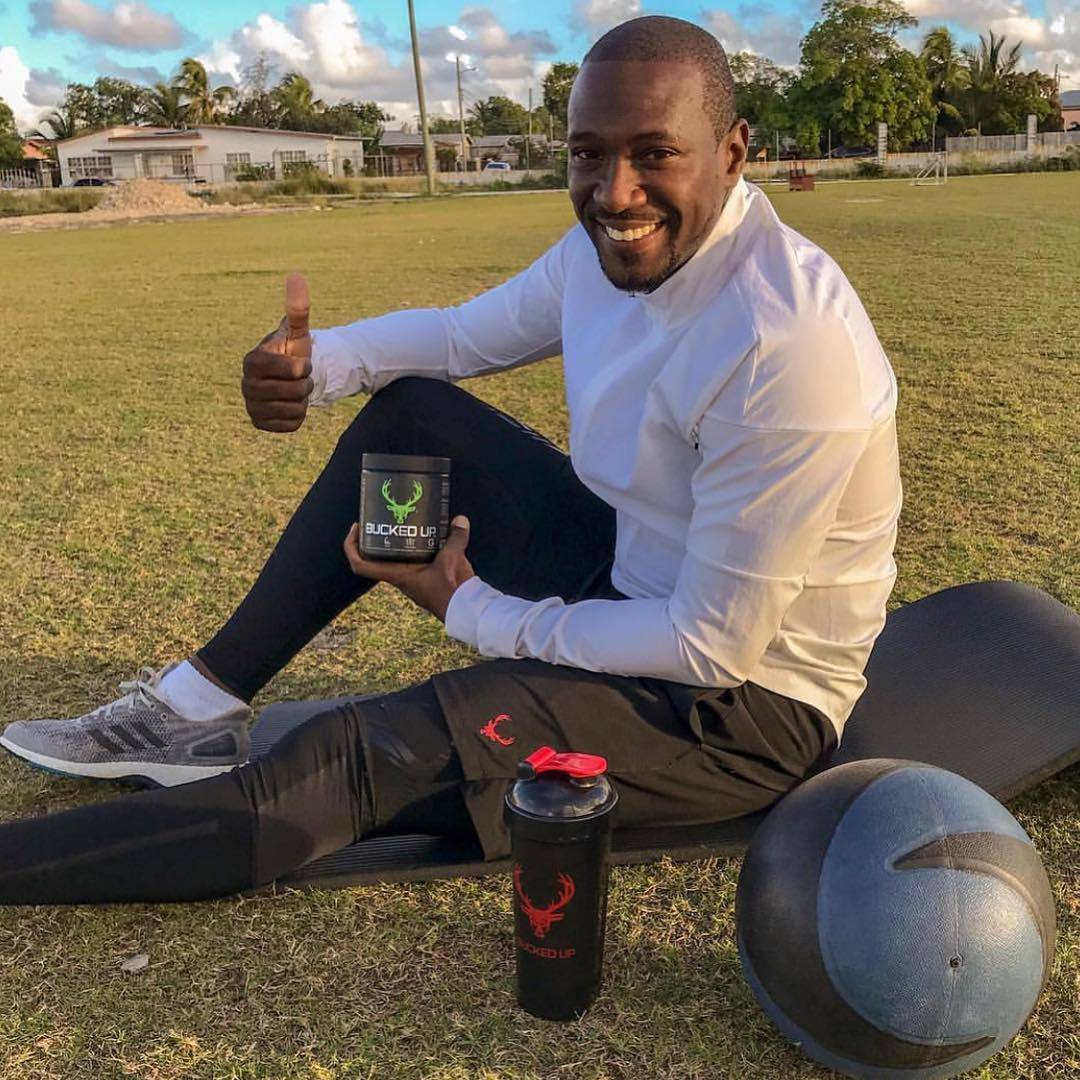 Energy. Endurance. Focus. Performace.
TAKE YOUR WORKOUTS TO THE NEXT LEVEL
Bucked Up was developed with two purposes in mind. To take your workouts to the next level -- check. And be the best possible pre-workout on the market -- also check. ★ ★ ★ ★ ★ 5.0
100% NO-RISK MONEY BACK GUARANTEE


What are people saying about Bucked Up?
★ ★ ★ ★ ★
I will never use any other pre-workout ever again. I feel like the reason bucked up is so successful is because they build loyal customers. Once you try it you never go back. Its high quality. Taste and effectiveness. Everything about the quality of their products speaks for itself. Nothing is halfway done. Plus the taste is amazing!!!
- Tess
★ ★ ★ ★ ★
There is a multitude of factors that make this pre-workout excel! The streamlined 200mg make this pre-workout give you the energy you need but not too much to where you're overloaded. Excellent listing of ingredients and there are no mysteries involved. I enjoy consuming a pre-workout where all the ingredients are listed. Mixing is a breeze and never leaves clumps. The flavor Blood Raz is THE BEST flavor! 5/5. Will recommend and return.
- George
★ ★ ★ ★ ★
I've looked long and hard to find a pre-workout that works for me! This is it! This gives you the energy you need to power through your workout! If you're looking for the pre-workout that delivers the punch this is it$
- Andrew
★ ★ ★ ★ ★
My absolute FAVORITE pre-workout! It gives me the perfect amount of energy without the crash or jitters! This stuff is amazing! I have Blood Raz and Wild Orchard. I can't choose between them to decide a favorite because they're both THAT good.
- Rylee